Accept payments quickly at the counter, tableside or curb
Whether you're a restaurant, bar, coffee shop or food truck, our POS solutions make it easy for you to deliver a smooth payment experience.
Don't miss a beat with our easy-to-use devices
Our solutions are intuitive, meaning you'll spend less time training staff. And our devices are easy to set up, so you can get started quickly.
Create convenience for your customers
Give them quicker ways to settle up. At the counter, at the table, by phone, online or at curbside pickup.
Connect your POS with us and go
Like your existing point of sale? Connect Chase payment processing to your current POS without overhauling your day-to-day operations.
Our menu of payment options, prepared especially for you
Dine-in restaurants
Use the Move 5000 to deliver dining experiences
that customers love, so they keep coming back.
When guests pay at the table, they feel safer with
their debit and credit cards in full view and servers save time.
Integrate seamlessly with your restaurant
management software.
Customers can pay by: tap, chip & PIN, swipe or
digital wallets such as Google Pay™ and Apple Pay®.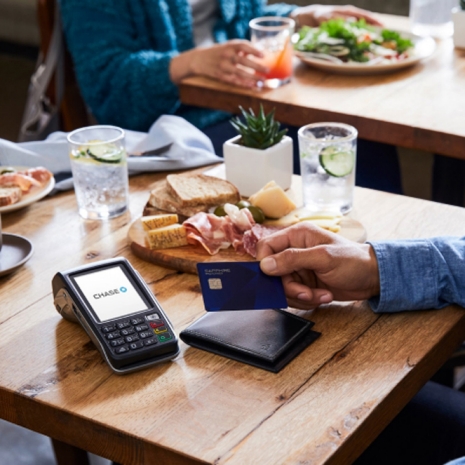 What customers are saying about us
"We are extremely happy to be working with Chase as they ensure we have the best products and services to manage our business."
- Darien List, owner of Beach Hill Smokehouse
Connect with us
We'll help you set up the right payment solution for your business. Call us at 1-866-490-5347.