Accept payments the way your customers want, wherever business happens
Whether you sell in-store, online, on the go, or some combination of all, our POS solutions have you covered. We offer a range of card terminals, e-commerce solutions and mobile payment options.
Accept debit and credit card payments at the counter, all around the store and even curbside.
Create a seamless shopping experience and process debit and credit cards online. Or use our virtual terminal solutions to take payments by phone.
Accept debit and credit cards at farmers' markets, crafts fairs or any remote retail setting.
How can you get paid in person?
How can you get paid online?
Starting up or branching out? We've got you covered.
Accept payments on your smartphone
You launched a new business or want an additional, portable payment option. Use your smartphone with the powerful Chase Mobile Checkout-PLUS app and card reader.
No monthly rental fees.
Create an image-based product catalogue for faster checkout; email receipts to customers.
Customize taxes and tips.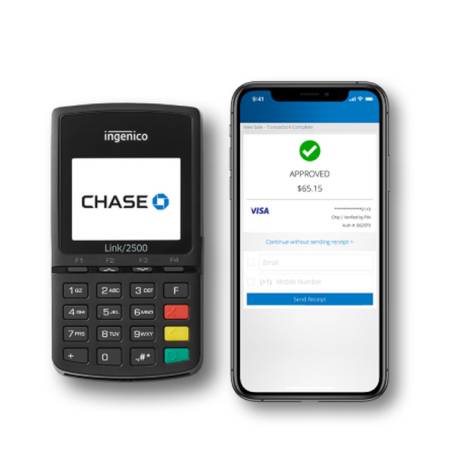 What customers are saying about us
"We appreciate Chase's dedication to client relations and support in all aspects of our retail payment system, servicing and fulfilling both our e-commerce and retail platform."
- Paulina Georgiou, Director Retail Operations of Freda's
Connect with us
We'll help you set up the right payment solution for your business. Call us at 1-866-490-5347.