Food trucks 101: from getting started to accepting payment
By Jackie Lam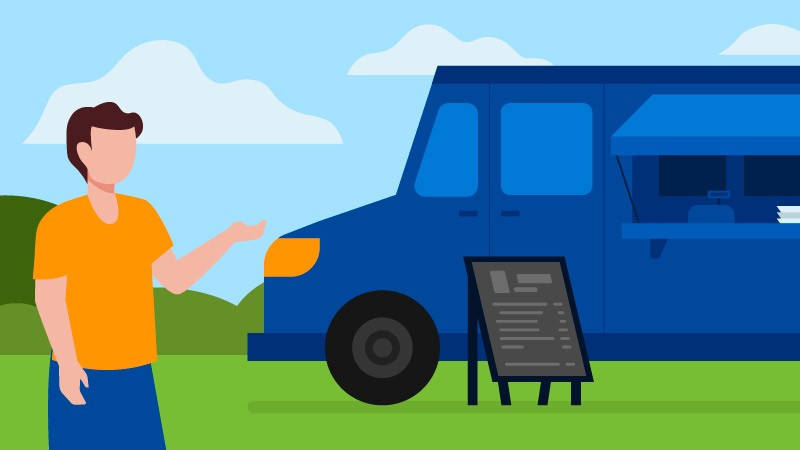 Ever entertain notions of operating your own food truck that sells your family's chicken pot pie poutine recipe? Or maybe a mobile bakery that features your locally treasured cupcakes?
Maybe you want to launch a food truck business to pursue your culinary passions or turn a side hustle into a full-time endeavour. Or maybe because of the relatively low start-up costs, you see a mobile food business as an opportunity to dip your toes into entrepreneurship, work for yourself, and contribute to the local economy.
Canada has seen a rise in the popularity of food trucks in recent years. In fact, the market size of the food and drink street vendor sector in Canada was $228 million USD in 2022, which converted to roughly $315 million CAD. There's such high demand for these restaurants on wheels partly because of how prosperous they can be; according to the Canadian government, successful food truck businesses can expect to earn an average of $156,000 CAD annually. But depending on where you live, you may only find some food trucks operating during the warmer months. And even for the trucks that operate year-round, the spring, summer, and fall present the best opportunity for tourist and festival crowds. And over the course of the school year, you can be sure to find plenty of trucks on or around university campuses.
If you have hopes of one day launching your own mobile food service business, there's more to consider than the weather and the seasons. So what exactly does this venture involve? And what other benefits and challenges should you be aware of? Let's take a look.
The Canadian food truck market has seen greater interest in recent years.
The market size of the food and drink street vendor sector in Canada was $290 million CAD in 2021.
That's up from nearly $270 million CAD in 2020.
The global food truck market was valued at $5.4 CAD billion in 2021.
That number is projected to grow to $7.9 billion CAD by 2028.
Sources:
Benefits and challenges
As it goes with any small business endeavour, there are both perks and downsides to running your own food truck business.
Benefits
Pride in running your own business
There's nothing quite like the pride of bringing your small business idea to life. From inspiration to conception to full launch, being your own boss comes with proper bragging rights.
The ability to build community with other food truck owners
Food truck owners are a unique brand of entrepreneurs. They're resourceful, imaginative, innovative, and flexible. Whether you join a formal association, such as the Food Trucks Association of Canada, or start a local mastermind group with fellow mobile-food-service business owners, you can find community in the food truck world to share wins and woes, brainstorm ways to pull together resources, uplift and support one another, and cross-promote.
Lower costs compared to opening a brick-and-mortar restaurant
Running a food truck business is usually less expensive than opening a brick-and-mortar restaurant. According to the most recent government financial performance reports of the mobile-food-service sector (which were released in 2018), it can cost anywhere from $40,000 to $200,000 to launch a mobile-food-service business. To compare, you'd need a much more significant sum — in the ballpark of $175,000 to $750,000 — to open and run a traditional restaurant.
How much capital you need to get your food truck business off the ground largely depends on whether you decide to buy a truck or rent one. Plus, you'll want to be mindful of the licences and permits you need to operate a food truck.

Freedom and flexibility in a mobile business model
The beauty of a mobile business model is the freedom to set up shop where the crowds are. Should business be slow in one location, you always have the flexibility to uproot and travel to an area with greater foot traffic and demand for your offerings.
Challenges
Local zoning laws
Zoning laws, regulations, and restrictions can vary dramatically depending on which province and city you operate in. You'll not only need proper licences and permits, you'll need to abide by certain location-specific rules (more on that below).
Competition
As a new mobile restaurant, you'll have to compete with established trucks who have been growing their fan bases for years. The greater the competition, the more effort you'll need to put forth to stand out. You'll have to put in extra work to differentiate yourself from food trucks with similar offerings and provide a superior product and experience. With that said, even if you offer similar fare as another truck, clever, memorable branding plus a high-quality menu can help you attract positive attention.
Steps to start a food truck business
From defining your market to choosing the right payment solutions for you, here's a step-by-step guide to launch a mobile food business.
Define your market and service
Pinpointing your market and what you offer can help you stay competitive in a growing industry. Start by answering questions like:
What's your unique offering?
Who's your target customer?
Where, when and how can you reach them?
What's your price point?
What sets you apart from the competition?
Develop your business plan
Without a business plan, you won't have a roadmap or guiding compass to steer your venture toward growth and success. A business plan can also help you generate interest from potential supporters, founders, and cofounders. Consider including the following components:
A business description
A values-based description
The market opportunity for success, growth, and expansion
A marketing plan and sales strategy
Financial forecasts for the first one to three years
An outline of owner and manager skills, education, and experience
An operations plan
Build your branding
Strong branding can lead to more instant recognition, facilitate deeper customer engagement, elicit an emotional response from your customer base, and generate higher profits. To build your brand, start by answering the following:
What is your brand story?
What values do you represent?
Do you have a logo?
Do you have a tagline?
What colour palette and fonts would you like to consistently use?
Source your supplies
When you launch your food truck business, you'll need to acquire supplies and equipment. You can start your search at a restaurant wholesaler or perhaps buy second-hand supplies from a restaurant that is downsizing or going out of business.
Because space is often a concern on a food truck, you'll want to be efficient and prudent in what you purchase. Start with the bare essentials — keeping in mind what you can afford — and build from there.

While the exact supplies and equipment you need will depend on your particular business, here's what the average food truck requires.
Large appliances and plumbing:
Refrigerator and freezer
Oven
Grill
Fryer
Smoker
Exhaust Hood
Microwave
Ice maker
Sinks
Small appliances:
Food processors
Countertop or hand mixer
Blender
Heat lamps or display warmers
Cooking equipment:
Pots and pans
Cooking utensils
Knives
Knife sharpener
Mixing bowls
Cutting boards
Cleaning supplies:
Rags
Cleaning buckets
Cleaning solutions
Service supplies and equipment:
Napkins
Utensils
Cups
Plates
Bowls
Kitchen display system
Point-of-sale system
Storage and organization:
Storage racks and shelving
Storage containers
Safety equipment:
Aprons
Oven mitts
Gloves
First-aid kit
Food thermometers
Fire suppression system
Sources:
Select a truck
The average cost of a food truck depends on whether you buy a used one, a new one on a chassis, or one with a built-in kitchen.
Used food truck: $68,000 to $138,000
New kitchen on a truck chassis: $117,000 to $158,000
New food truck with a kitchen: $172,000 to $275,000
Renting a food truck is the more affordable option. Depending on the duration of the lease, a rented truck will run you around $2,700 to $4,100 per month.
Build your team
When establishing your food truck team, consider whether you'll want to recruit former co-workers and colleagues, friends, and/or family to help get your business off the ground. You may instead want to work with a recruiting agency or post a listing on a job board to hire seasoned, professional help.
Secure permits, licences and insurance
Running a food truck is not as simple as renting or purchasing a truck and hitting the road. Food service business owners need to make sure they are legally allowed to be in business. Here are some licences, permits, and types of insurance you'll need.
Commercial licence plate and motorized refreshment vehicle owner licence
Commercial auto and general liability insurance policies
Parking permits
Registered business number
GST/HST registration number
You'll also need to pass food safety inspections and properly dispose of waste and grease.
Choose a location
While a main draw of owning and operating a mobile food business is the freedom to roam, consider foot traffic, demand, and weather when determining where to set up shop temporarily. You'll also want to consider the types of crowds you'll cater to in any given area and how long to stay in one location before uprooting. These decisions often hinge on local rules, regulations, and zoning laws. For instance:
In Toronto, you need a motorized refreshment vehicle owner licence and a mobile food vending permit to operate a food truck. There can be no more than two food trucks on a single block, and they can't operate for more than five hours in a row.
In Calgary, food trucks require a municipal business licence. If you plan to operate your truck on city streets, you'll need a public liability insurance policy of $2 million in place before you can obtain a licence. Trucks must park at least 100 metres from schools and 25 metres from food service establishments.
In Vancouver, trucks must have a roaming food vending permit. They're prohibited in a large swath of the downtown area and must be at a minimum of 100 metres away from brick-and-mortar food establishments.
To find potential food vending locations that abide by location-specific rules, you can start by checking out the area's website for helpful tools, like this zone map in Toronto or prohibited zones map in Calgary (PDF).
Engage with the community
Engaging with the community is a great way to show your support as a business owner — not to mention get the word out about your food truck. You can get involved and engage with the locals on social media and at city events, fairs, festivals, farmers' markets, and private gatherings.
Promote your food truck business
You can build community, spread the word, and engage potential customers in a variety of ways — starting by embracing social media. Consider the use of QR codes and limited-time offers, deals, and promotions, cross-promotion with other small businesses, word-of-mouth marketing, and/or a newsletter.
Depending on your marketing budget, you could tap into social local food blogger/influencer marketing, digital marketing, and paid publicity. No matter which marketing channels you'd like to start with, it's important to track your data, analytics, and results so you can make adjustments as needed.

Can you track what's selling (and what's not)?
This information can help guide what you put on your menu.
Can you accept many types of payment?
Opt for a system that allows customers to pay by tap, chip & PIN, and digital wallets.
Do you need to plug in?
Rather than rely on an outlet, consider a rechargeable option.
How long can you go without a charge?
In order to serve customers all day without interruption, look for an option that can run up to 1,000 transactions between charges.
Do you have multiple receipt options?
Some customers may prefer a printed receipt while others will opt for email or text receipts.
How often will you have to pay fees?
Some systems require only a one-time set-up fee while others require monthly or annual rental fees.
What security measures can you count on?
To protect your customers and business from fraud, look for an option with advanced protection in the form of password protection, duplicate card checking, address verification service (AVS) and card security verification.
Is your system easy for staff and customers to use?
Consider how much time it will take to train staff as well as the ease of use for customers.
Sources:
Payment solutions for food trucks
A location-flexible and highly scalable business such as a food truck requires a flexible payment solution that lets you get paid on the go or with in-person point-of-sale (POS) processing capabilities. You'll also want the ability to accept many types of payment — especially contactless ones — when you're on the go. If you're not sure where to start, let our team help you find the right solution for your business.
Conclusion
Starting a food truck business can be an exciting opportunity. Before jumping in with both feet, it's important to know the pros and cons of launching such an undertaking, how much you'll have to invest to get started, and the steps involved to get there.