How to add credit card processing to your website
By Nicole McDermott
While market behaviours and demands are always in flux, the average consumer still loves the convenience of browsing merchandise from the comfort of their living room. Most modern customers expect retailers to offer shopping as their primary online interface. That means businesses of all sizes need more than a website with product descriptions — they need the ability to accept payments online, especially for customers who want to pay with a credit card or digital wallet.
With over 76 million credit cards in circulation in Canada, businesses that allow customers to pay with credit cards can make transactions smoother and more enjoyable for the customer. And that's the goal, right? As a small business, it's important to not only accept credit card payments online, but also to ensure a straightforward, smooth, and secure checkout process.
Ready to discover how to make that happen? Stick with us to learn about the rapid growth of e-commerce, how to accept credit card payments digitally, best practices, and more.
The rapid growth of e-commerce
As computers and the internet have become more accessible over the last several decades, online marketing and sales have seen a major uptick in popularity (PDF). For many Canadian consumers, online shopping has become their go-to option for a large portion of their purchases.
According to a report from market research company, The NPD Group, 82% of Canadian consumers made an online purchase in the first half of 2021, and online visits grew by 25% from June 2020 to June 2021. Additionally, the International Trade Administration (ITA) reports that in 2021 there were more than 27 million e-commerce users (accounting for 72.5% of the Canadian population) in Canada — and that figure is expected to climb to 77.6% in 2025. The ITA projects retail e-commerce sales to surpass $40 billion by 2025.
When consumers take to the internet to purchase everything from essentials to gifts and treats, they expect a smooth shopping experience with a variety of payment options, including credit. In fact, more than nine out of 10 (93%) Canadian adults have at least one credit card and, according to the Canadian Bankers Association, shoppers choose this payment method for the majority of retail e-commerce purchases.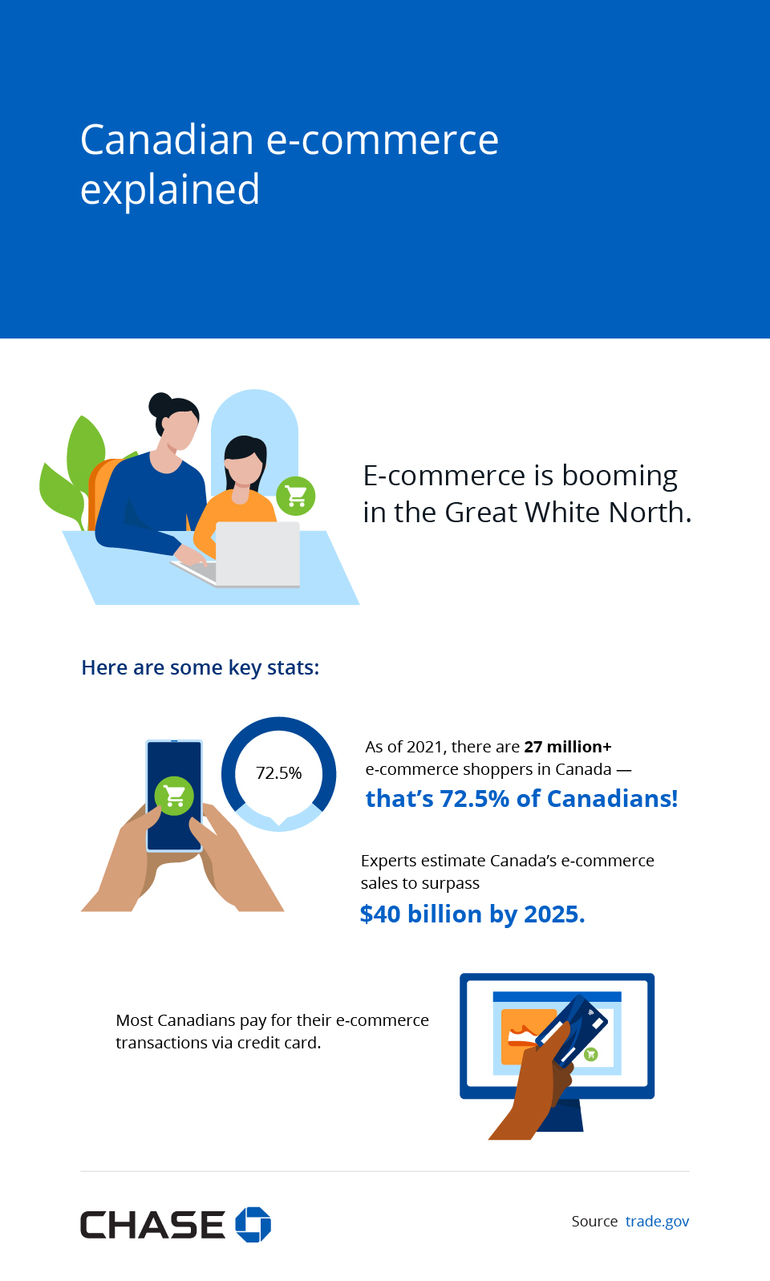 E-commerce is booming in the Great White North.
Here are some key stats:
As of 2021, there are 27 million+ e-commerce shoppers in Canada — that's 72.5% of Canadians!
Experts estimate Canada's e-commerce sales to surpass $40 billion by 2025.
Most Canadians pay for their e-commerce transactions via credit card.
Sources:
How credit card processing works
When a customer purchases an item online or in a store, there's more to a transaction than simply entering credit card details or inserting a chip into a card reader. Understanding each step of the credit card transaction process is especially important for small business owners because payment processing costs can add up (PDF).
Without further ado, here are the necessary steps to process a credit card transaction online, as outlined by the Financial Consumer Agency of Canada:
The merchant's website displays the purchase amount on the customer's computer, smartphone, or tablet screen for verification.
The customer enters their payment card information and then confirms the transaction.
The merchant's system submits the transaction information, including the amount the customer paid and the customer's credit card number, to the merchant's payment processor.
The payment processor sends details about the purchase to the customer's bank. The customer's bank then confirms that the purchase does not exceed the customer's credit limit or available funds.
The customer's bank authorizes or declines the transaction. Then, with the help of the merchant's payment processor, the customer's bank sends a message to the merchant to let them know if the credit card was declined or approved. This step is called authorization.
The payment processor delivers funds from the customer's account to the merchant's bank. This step is called settlement.
How to accept credit card payments online
If you're wondering how exactly to add credit card processing to your website, we're here to help. While there's much more to online credit card transactions than we outline here, these key steps serve as the foundation.
Research and select a payment processor.
To accept credit card payments online, you need to choose a payment processor. Your payment processor serves as the communication conduit between payment networks and financial institutions like Scotiabank. When you accept a credit card payment online, processing companies also facilitate the transfer of funds from the customer's card account over to your business account.
Before we dive into the selection process, let's explore some of the common terms small business owners should be familiar with when evaluating payment processors.
Payment gateway: a payment gateway helps to easily connect a merchant's e-commerce site with their payment processor to facilitate processing secure online transactions.
Merchant accounts: A merchant account is a type of account that merchants have with their payment processor that allows the acceptance and processing of electronic payment card transactions.
Payment methods: How a customer pays for a product or service. Common options include credit cards, debit cards, gift cards, and direct transfer from a customer's bank account.
When searching for a payment processor, look beyond startup costs. Compare processing fees and ensure the options you choose will be compatible with your website or e-commerce platform. Chase, for example, has hundreds of e-commerce tools that offer versatility, accessibility, and security for your growing business.
Further along in your payment processor search, also consider whether you may switch to another payment in the future. If you do, you may be subject to a contract cancellation fee and the loss of customer data if your current processor owns it. Depending on your needs, you may also want to keep an eye out for accounting software that could make your job easier while saving you time and money.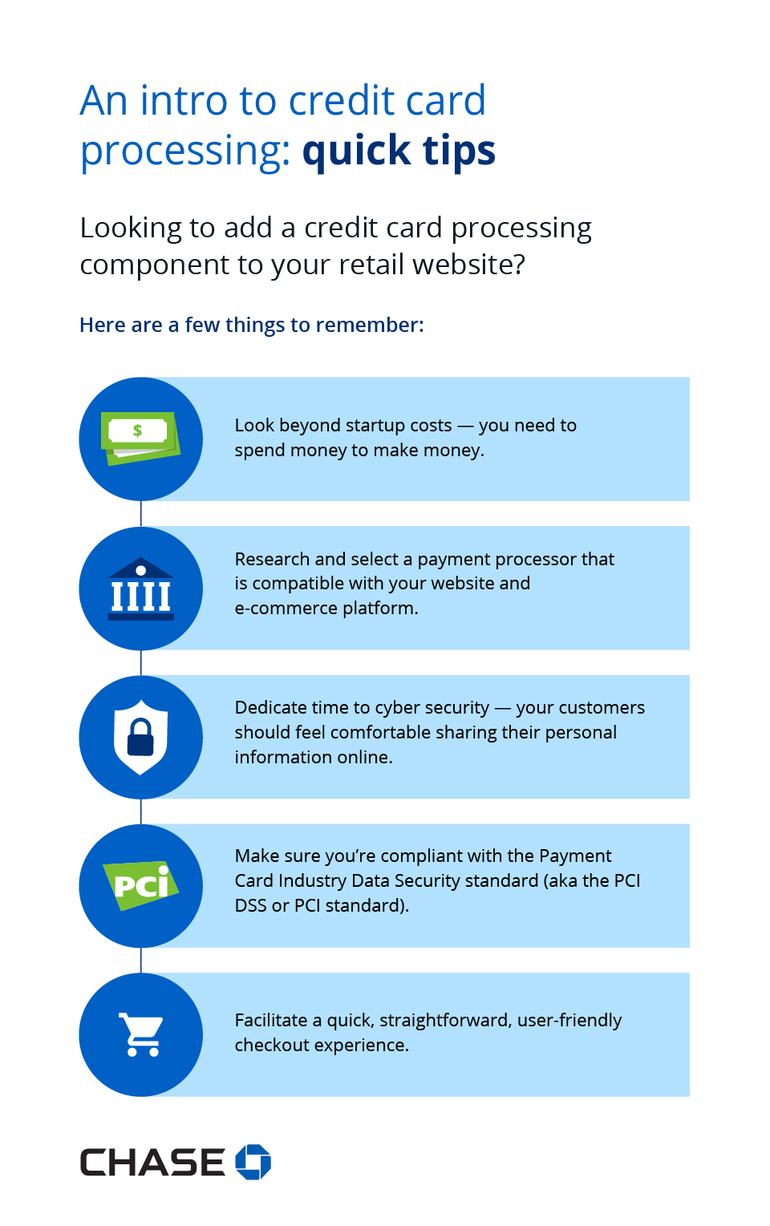 Looking to add a credit card processing component to your retail website? Here are a few things to remember:
Look beyond startup costs — you need to spend money to make money.
Research and select a payment processor that is compatible with your website and e-commerce platform.
Dedicate time to cyber security — your customers should feel comfortable sharing their personal information online.
Make sure you're compliant with the Payment Card Industry Data Security standard (aka the PCI DSS or PCI standard).
Facilitate a quick, straightforward, user-friendly checkout experience.
Set up your payment platform.
To accept credit cards for online purchases, merchants need a platform to collect important data about customers and process payments. Top tier providers can do all of this in minutes, allowing for smooth transactions and a seamless customer experience.
Payment platforms may come in the form of:
A website that allows cardholders to select items or services to purchase
A third-party platform, like shopping cart software or payment plugins, that support payment card acceptance
A secure payment page, hosted on the company's website, that allows customers to enter sensitive information with confidence
Social media, like Facebook and Instagram, that allows customers to buy items by clicking shoppable posts directly
Online invoicing software (the least direct way to accept a credit card payment online)
Ensure your website is secure.
By the very nature of a purchase being digital, consumers have come to expect the sharing of personal information online. While merchants — and the organizations they turn to in order to run their businesses — work hard to ensure cybersecurity, breaches happen. In fact, cybercriminals often target online retailers for credit card information. That's why it's crucial to ensure your site is secure and you don't put your customers' safety and trust at risk.
So how do you accept online credit card payments without compromising customer data? Make sure you're compliant with the Payment Card Industry Data Security Standard (also known as the PCI DSS or PCI standard). The goal of the PCI standard is to help retailers keep their systems secure while establishing and maintaining trust when customers share their sensitive credit card information. If you do not maintain PCI compliance, you may be subject to some hefty fees. Even worse? If you're not compliant, and you experience a data breach, your business may be held financially responsible.
Optimize the page for the customer's credit card payment experience.
Remember that smooth payment process we talked about before? Once your customers add items to their shopping cart and then decide they want to go through with their purchase, it's up to you to facilitate a quick, straightforward, user-friendly checkout experience. One way to make this happen: One-click checkouts that allow customers to pay without entering their credit card numbers or scouring for passwords each time they check out.
Some businesses also choose to offer flexible payment options by partnering with "buy now, pay later" financing services. These solutions provide customers with a little more wiggle room as they can pay for pricier purchases over time.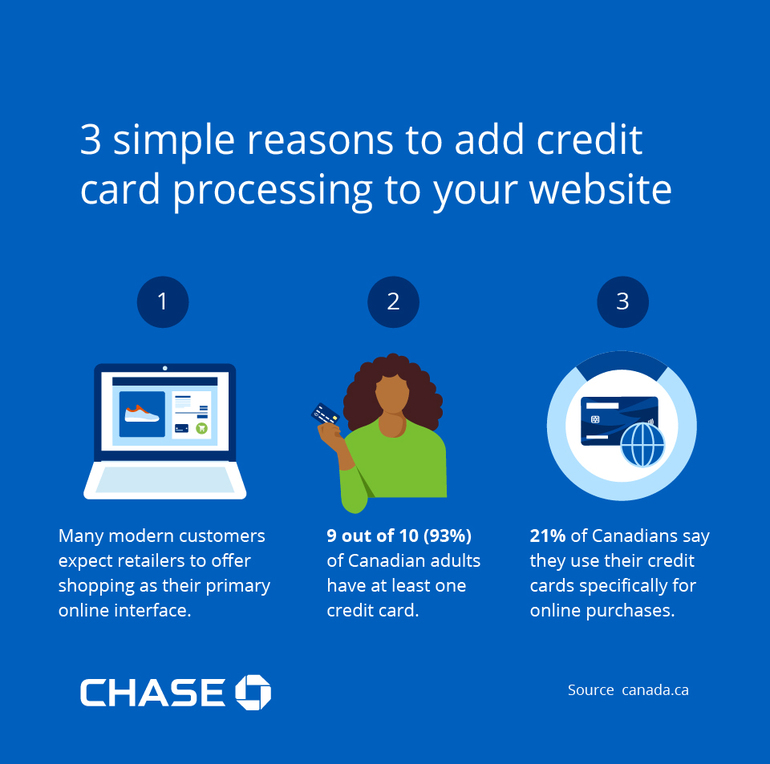 Many modern customers expect retailers to offer shopping as their primary online interface.
9 out of 10 (93%) of Canadian adults have at least one credit card.
21% of Canadians say they use their credit cards specifically for online purchases.
Sources:
Conclusion
E-commerce has firmly rooted itself in the digital zeitgeist. Many of us can't imagine a world without the ability to search, select, and pay for just about anything we need with just a few clicks. For merchants, it doesn't need to be a confusing process. Providers like Chase can take the guesswork out of credit card processing, and offer business owners quick setup, expert advice, and comprehensive security.
Today, it's not enough to just offer products and/or services online. You also need a fast, easy, and secure way for customers to use their credit card. Offering that peace of mind gains and retains customer trust and loyalty. It also paves the way for success.