How to draw more tourists to your business
By Ali Wilkinson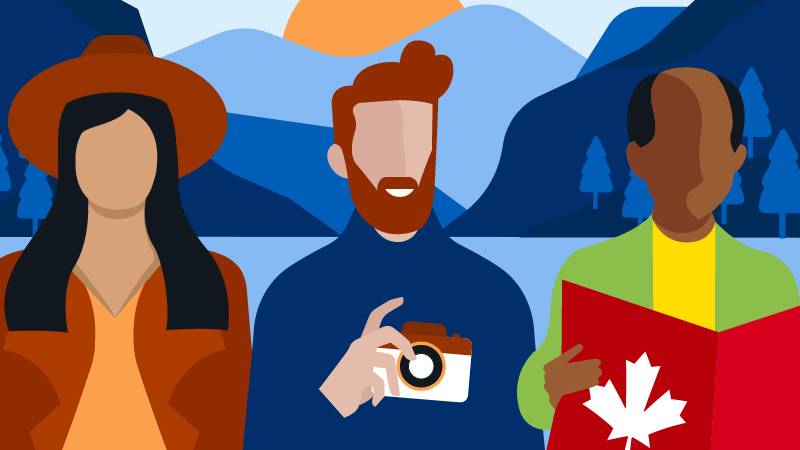 People from all over the world travel to Canada to take in its beauty, geographical diversity, and culture. In 2019 alone, more than 22 million people travelled to Canada internationally, making it the 18th most popular tourist destination in the world. Historically, Canadian tourism has accounted for one in ten jobs, generated $104.9 billion in tourism expenditures, and contributed $43.5 billion in gross domestic product.
Although the travel industry has lagged due to the pandemic, experts predict tourism numbers to swiftly rise in the very near future (PDF). In fact, the third quarter of 2021 showed growth in all key tourism indicators, including a 247.3% growth in spending by non-residents over the previous quarter, totalling $1.2 billion. (Domestic tourism was up over 20% in the same quarter as well!)
In other words, tourism is big business — and if your company is near a tourist destination, you may want to capitalize on it. Thankfully, Chase's merchant services can make your life easier, offering simple and reliable solutions for your business, empowering you to accept payments in-store, online, over the phone and more.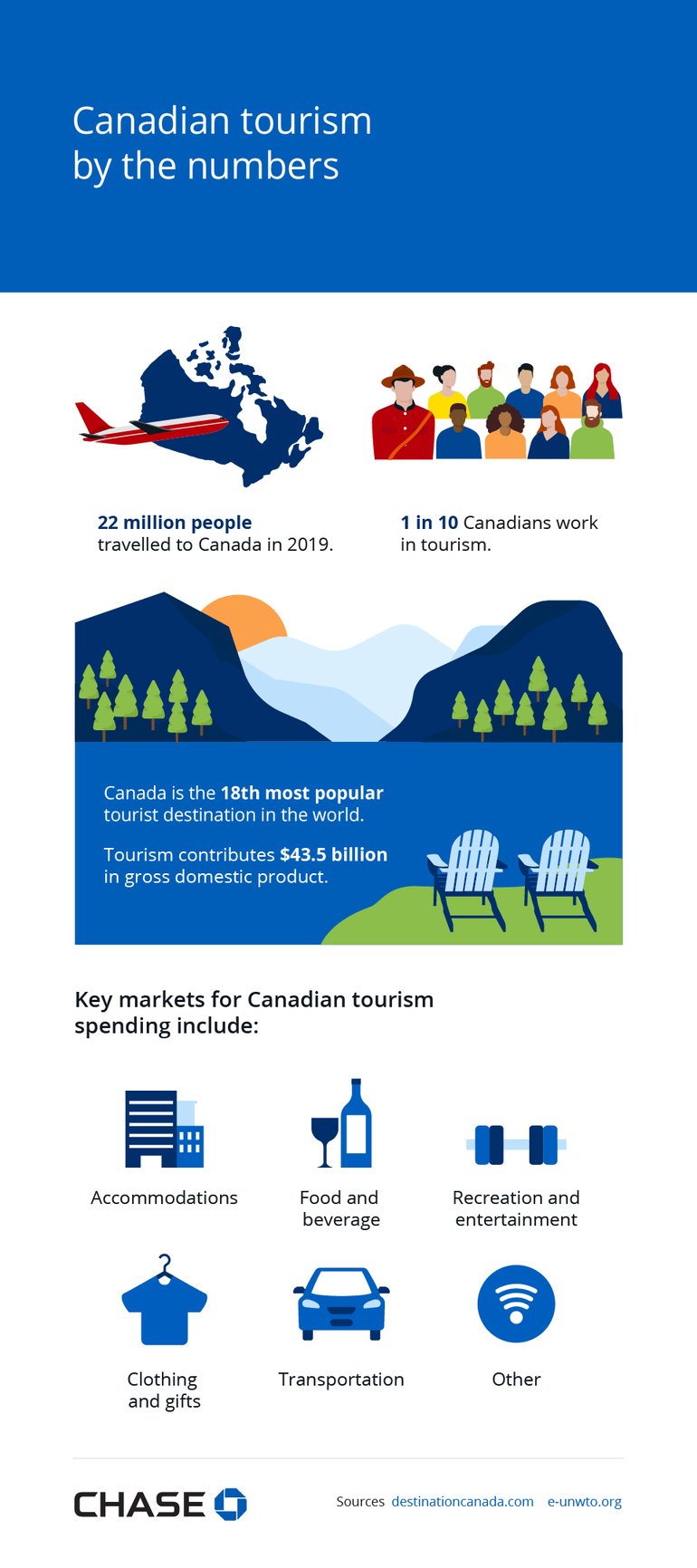 22 million people travelled to Canada in 2019.
1 in 10 Canadians work in tourism.
Canada is the 18th most popular tourist destination in the world.
Tourism contributes $43.5 billion in gross domestic product.
Key markets for Canadian tourism spending include:
Accommodations
Food and beverage
Recreation and entertainment
Clothing and gifts
Transportation
Other
Sources:
Tips for attracting tourists to your small business
About three quarters of Canada's tourism is concentrated in Ontario, British Columbia, and Quebec. But tourists are certainly not limited to these areas. Travellers come from near and far to see the beauty of Canada from coast to coast to coast, including its museums, art installations and national parks — including Canada's most-visited national park, Banff in Alberta.
And while summer seems to be a popular time to visit the Great White North, you can attract visitors to your business year-round by using these helpful hints.
1. Make use of Destination Canada's "Explorer Quotient Toolkit."
Market analysis is an important part of developing any marketing plan. Who are your current customers? What do they have in common? How can you keep them coming back while attracting new customers?
Destination Canada's "Explorer Quotient Toolkit" is based on the science of psychographics, a more evolved form of demographics. Psychographics goes beyond age and geographical origin and looks into people's social values and how they view the world. Taken together, demographics and psychographics provide a more complete picture of travellers' behaviours and help you better understand what type of travel experience your customers want.
Using the hands-on Toolkit, you can better understand and categorize your customers. For instance, you may cater to "Free Spirits," who are social and like to shop. Or perhaps you want to attract "Cultural Explorers," who are most focused on learning the culture of the place they travel to.
Once you have a better sense of your customers, you can use the Toolkit to know how best to market, what sorts of experiences and products your customers will most enjoy, and how to keep your customers coming back.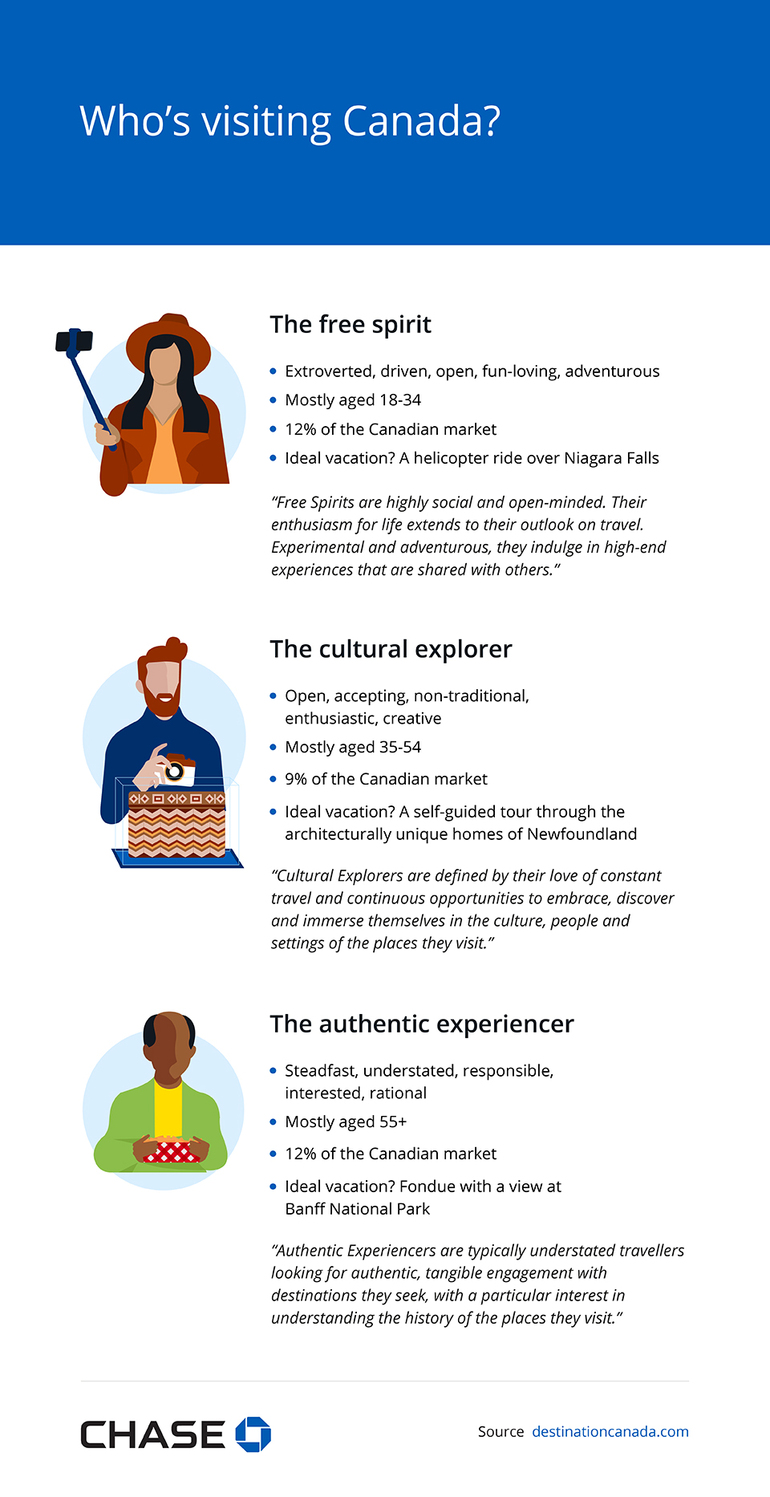 The free spirit:
Extroverted, driven, open, fun-loving, adventurous
Mostly aged 18-34
12% of the Canadian market
Ideal Vacation? A helicopter ride over Niagara Falls
"Free Spirits are highly social and open-minded. Their enthusiasm for life extends to their outlook on travel. Experimental and adventurous, they indulge in high-end experiences that are shared with others."
The cultural explorer:
Open, accepting, non-traditional, enthusiastic, creative
Mostly aged 35-54
9% of the Canadian market
Ideal Vacation? A self-guided tour through the architecturally unique homes of Newfoundland
"Cultural Explorers are defined by their love of constant travel and continuous opportunities to embrace, discover and immerse themselves in the culture, people and settings of the places they visit."
The authentic experiencer:
Steadfast, understated, responsible, interested, rational
Mostly aged 55+
12% of the Canadian market
Ideal Vacation? Fondue with a view at Banff National Park
"Authentic Experiencers are typically understated travellers looking for authentic, tangible engagement with destinations they seek, with a particular interest in understanding the history of the places they visit."
Sources:
2. Connect to your local visitors' organization.
When tourists don't know where to go, they go to the local visitor bureau. You can find a list of official Canadian tourism offices here, separated by province.
These offices feature local businesses and activities that appeal to tourists. For instance, they may feature certain restaurants or shops in their online or printed guides. Reach out to the most relevant tourism office to you and see if there are ways you can work together to market your business and reach a new audience.
3. Connect with local hotels, concierges, and travel agents.
Hotel concierges are a direct pipeline from travellers to your business. They are often the ones to give inside tips to tourists about where to go and what to do. Get to know them and court them a bit. For instance, if you have a restaurant or bar, invite them to try some food and drinks, free of charge. If you have a service, give them a pass or voucher to see how fun it is. Or if you have a unique shop, send over a gift basket of some items that are uniquely yours. These gestures help ensure you are front and centre in their minds when they make recommendations to guests.
You may also consider partnering with similar businesses, or businesses that complement yours. For instance, if you own an outdoor gear store, connect with a boat rental shop, ski resort, or other similar businesses. That way, you can build a mutually beneficial relationship and share customers.
You could even take advantage of Canada's beloved cottage industry and align with the markets and equipment stores who are often vacationers' last stop before heading out into the country. Whether your business is offering fun experiences, vacation rentals, or delicious treats, you may catch tourists at the most opportune time, when they are about to set off on an adventure and have plenty of money to spend.
4. Optimize your website for travellers and mobile users.
In our increasingly digitized world, travellers are turning to their smartphones to get oriented to a new place, find local hotspots, and discover trendy restaurants.
Knowing this, you want to make sure your website is mobile friendly and accessible, potentially even to those who do not speak English or French. Some easy ways to make your website accessible for mobile users, non-native language speakers or users with disabilities include simplifying the information on your site, avoiding putting all of your text in images, and not using pop-up windows.
Of course, it's also helpful to accept payments online. Embracing e-commerce gives customers every opportunity to purchase your products and services with ease.
5. Build a presence on social media.
According to the Retail Council of Canada, who have endorsed us as their preferred payment provider, "Social media provides the amazing opportunity to have conversations in real-time and show your customers you are listening." In other words, travellers are not only getting inspiration before they travel, but also while they travel. That's why you should remain active on your social pages and geo-tag your social posts, as tourists often search for fun activities using their current location.
There are a lot of social media platforms out there. And different platforms appeal to different populations. Think about which platforms your ideal customers are active on and create a robust presence on those.
For example, TikTok skews younger while Facebook skews older. If you're a restaurant trying to attract twenty-something tourists, you could highlight your unique drink specials with a fun, self-aware TikTok. On the other hand, if you're a coffee shop trying to attract an older, more academic crowd, try uploading a photo gallery of your best latte art to Facebook or Instagram.
Once you've chosen your platform, post frequently. Encourage travellers to geotag their photos at your business or share comments on your page. Make sure to respond back, too — this is a great way to increase engagement and create customer loyalty. And, if you have the bandwidth, try out a few different methods. As per the Retail Council of Canada, "Combining [social media] strategies can help keep your brand top-of-mind and give your customers greater value."
6. Monitor and respond to online reviews.
According to a study by BrightLocal, in 2021, 77% of consumers always or regularly use online reviews as a means of browsing local businesses. And they trust these reviews — a lot. In the same study, only 3% of those polled said they would shop at a business with an average star rating of two or fewer stars.
Because of how important online reviews are, it is important to engage with them. Responding to both positive and negative reviews promptly and with courtesy can help increase the overall number of reviews and increase your overall rating, according to a Harvard Business Review study.
One note of caution: Be careful what you post. A heated off-the-cuff response to a negative review will do more harm than good. Getting defensive, using insults, or making excuses can turn customers away. Often, the best response to a negative review is to offer a customer service contact for the reviewer to get in touch with. Resolving the issue directly, and publically, will play well with other prospective customers. Overall, approach online customer discourse with sincerity, honesty, and (if you think you have the team for it) playful humor.
7. Market your business to travel bloggers.
Travel bloggers, or travel influencers, are a trusted source for many vacationers. That makes sense because their job is to tell people about their first-hand travel experiences in an authoritative and approachable way.
Tap into this pre-built trust by reaching out to an influencer that matches your style and reaches your targeted audience. Although this market may seem niche, you may be surprised by the results.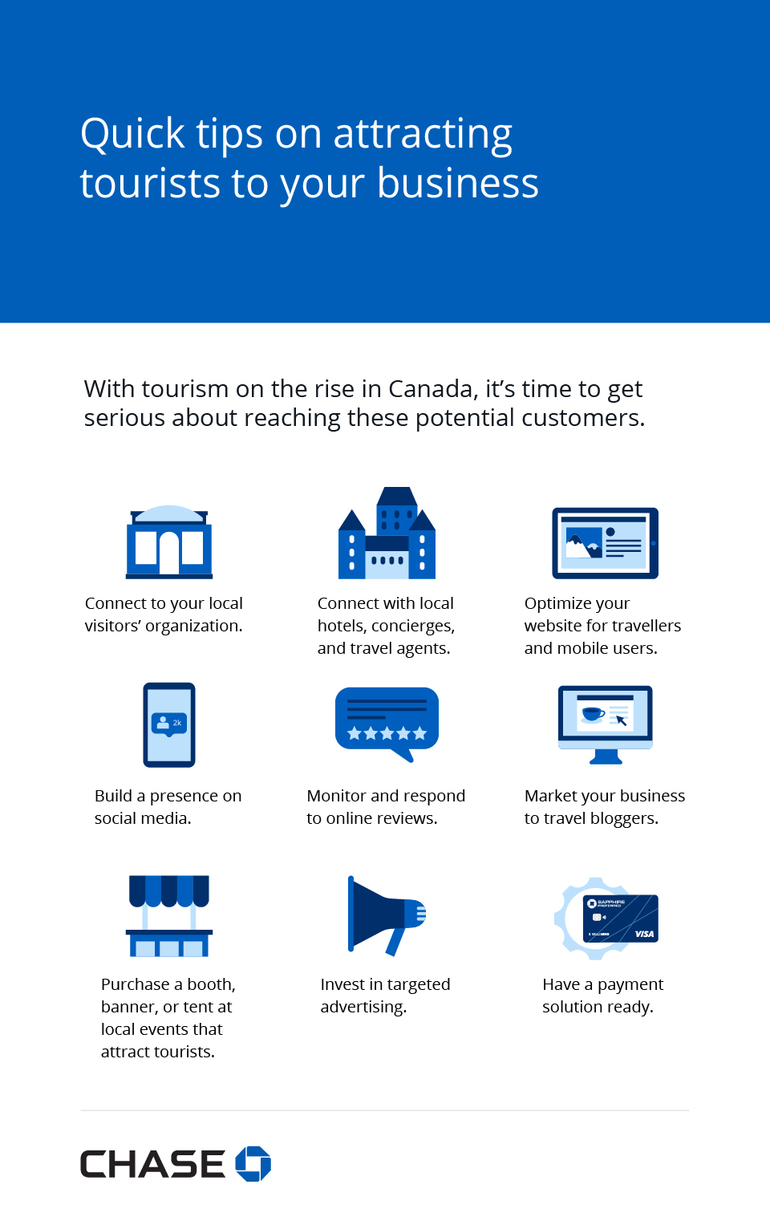 With tourism on the rise in Canada, it's time to get serious about reaching these potential customers.
Connect to your local visitors' organization.
Connect with local hotels, concierges, and travel agents
Optimize your website for travellers and mobile users.
Build a presence on social media.
Monitor and respond to online reviews.
Market your business to travel bloggers.
Purchase a booth, banner, or tent at local events that attract tourists.
Invest in targeted advertising.
Have a payment solution ready
8. Purchase a booth, banner, or tent at local events that attract tourists.
Is there a farmers market in your neighbourhood that vacationers flock to? An annual art show? A carnival? An expo? A parade? Find the events that attract local tourists and make your presence known there. Try purchasing a booth or tent and investing in some branded swag to help your potential customers think of you both at the event and after.
If you're feeling extra savvy, keep your merchandise front-and-centre and use a mobile credit card reader to initiate curbside contactless payments. This will boost your bottom line, and help you bank valuable facetime with your clientele.
9. Invest in Targeted Advertising.
Targeted advertising helps you reach a certain audience, often via social media channels. For instance, you can create a Facebook Ad, which has an average click-through rate (the rate at which people click on the ad) of .9%. This makes the average cost for a thousand views about $7.92.
You can do targeted advertising through other social media platforms as well, including YouTube, Instagram, Twitter, LinkedIn, and Pinterest. Each of these platforms appeals to a slightly different audience.
For example, "Twitter ads are useful and affordable when it comes to targeting individuals by location and interest," whereas Facebook is ideal for targeting "a well-educated audience" as 82 per cent of the platform's users are college graduates.
In addition, you may consider Local Services Ads through Google. Although often more expensive than advertising through social media, these ads help get you seen at the top of Google, which is key when trying to get customers to find you.
10. Have a payment solution ready.
It's important to be able to accept payment in the way your customers expect and, increasingly, that's via credit or debit card. According to Scotiabank, who have endorsed us as their preferred payment provider, "the amount of electronic payments [in Canada] has grown drastically compared to 2019," and it's showing no sign of slowing down.
Think about how you sell your products or services. Do you take orders over the phone? Are you on-the-go, selling at markets or curbside? If so, you should consider a mobile solution, such as payment through a smartphone app. Chase's merchant services provide all of these services and more, allowing you to accept any payment method your customers have handy.
You will also need to think about how customers will pay for on-site purchases. Do you want a wired point of sale, like a countertop terminal? Wireless terminals, on the other hand, can make it easier to move through a space, to go table to table at a restaurant, for example. Whatever your needs, there are solutions. Think about which payment solution works best for your business and makes it easiest for your customers to pay.
Conclusion
With tourism on the rise in Canada, it's time to get serious about reaching potential customers. Small changes can make big impacts, and with a little elbow grease and some strategic investments, you can reach a whole new population of consumers. Canada has so much to offer its visitors, and your business could be at the top of their must-see list. To get started with Chase's merchant services click here.