Ten ways your restaurant can make the most of patio season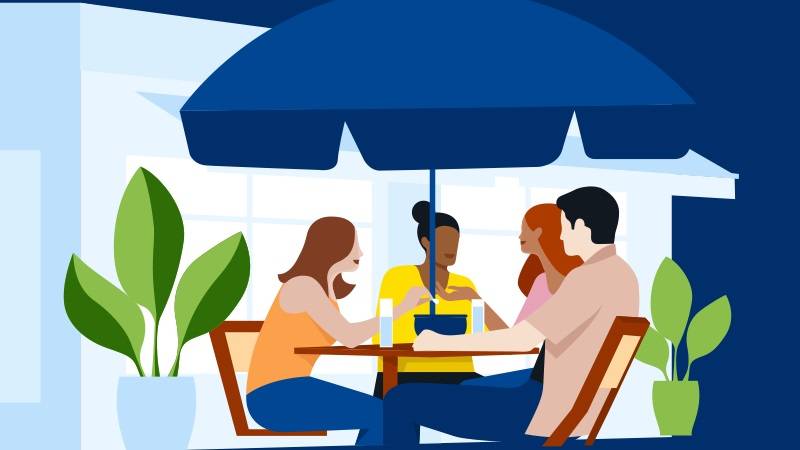 Spring is in the air, which spells good news for both restaurants and their diners: Outdoor dining season is about to begin.
Social isolation has been a serious health issue over the past couple of years. The outdoors have been a prime destination for Canadians looking to spend time with friends and family, and as of late, patios have been especially in demand.
Given that customers love outdoor dining and restaurants may stand to boost their revenue with outdoor seating, let's explore 10 ways your restaurant can prepare for patio season.
Canadians love patios
A study conducted by Happy City in Vancouver suggests patios support well-being and happy outdoor interactions:
Researchers observed 48% of people on patios laughing compared to 32% inside.
Researchers saw a higher number of outdoor diners talking to each other compared to those who sat inside.
Nearly all participants agreed they liked to meet friends on a patio.
91% of people agreed that the patio was a better use of space than a parking spot.
Prepare for patio season
These tips will help your restaurant get ready to welcome outdoor diners.

1. Get a permit
Whether you're interested in setting up a patio on the sidewalk, curbside, or another area of your restaurant property, you'll need to apply for a permit.
Each city has its own application process, so research how to apply in your area. Your municipality may lay out specific application requirements. For instance, they may ask for a copy of your business license, a drawing of your site plan, proof of insurance, photos of your location, and more. Toronto's CaféTO program provides temporary outdoor dining space in 2022, and other cities may have similar programs.
Your municipality may also stipulate specific rules and regulations you must follow. For example, they may restrict the times of the year when you can open your patio and require a certain amount of pedestrian clearance between the patio and roadways as well as certain barrier types.
Before designing your dream patio, make note of whether you can serve alcohol, allow pets, play music, and more.

2. Look into contactless dining options
In 2020, restaurants embraced contactless technologies at a rapid pace. For example, many establishments introduced online menus via QR codes. More than a third of Canadians (37%) said they would choose one restaurant over another if it offered contactless or mobile payment options. When it comes to ordering, one in five customers who plan to eat at restaurants said that app-based ordering would influence their restaurant preference. Millennial and Generation Z diners especially want contactless options.
If possible, adopt an integrated point-of-sale system that allows customers to order directly from their phones and work with a payment processor that offers contactless payment options. Also, consider installing a system that lets diners summon their servers via a phone app or contactless pager.
Reservation and waitlist


The customer uses their phone to make an online reservation or to add their name to an online waitlist.

Menu


The customer scans a QR code with their phone camera, which redirects them to the restaurant's contactless menu.

Ordering


The customer selects the items they wish to order. The order is automatically processed through the restaurant's point of sale system, then it goes directly to the kitchen.

Service


The customer can summon a server to the table using a smartphone app or pager.

Payment


The customer uses their mobile device to complete payment using a contactless payment terminal, a digital wallet, or another contactless method.

3. Shield diners from street and sidewalk traffic
Once you have your permit, it's time to create a safe, comfortable, and welcoming space for outdoor diners. For street-side patios, consider adding barriers, lattice, or landscaping to shield customers from street traffic and separate them from pedestrians. Make sure any barriers you use meet the specific by-laws in your municipality.

4. Incorporate plants and flowers
Plants and flowers are a great way to boost your patio's design and your overall aesthetic. Consider both hanging baskets and planters. While green foliage has a calming presence, guests also respond well to red, yellow, orange, and purple colours. Fragrant plants, such as lavender, rosemary, and citronella, can serve the practical function of repelling flying insects. Or get creative and add sand to your patio for a beach feel.

5. Create mood lighting
Diners who enjoy savouring their meals and chatting with friends may want to stick around after the sun sets. Install appropriate lighting so that they can see their food and each other while enjoying a festive ambience. Outdoor lighting options include lanterns, tea lights, twinkly string lights, and more. If you want to create a rustic or romantic ambiance, opt for warmer tones of yellow and orange light. Choose cooler blue tones of light if you're going for a modern vibe. Either way, consider dimmable fixtures so you can adjust the light as it gets darker outside.

6. Feature fresh, seasonal, shareable food and beverages that help people beat the heat
Patio season presents the perfect opportunity to optimize your menu for the warmer months. In the summer, many diners move away from ordering one or two large items and prefer multiple smaller, shareable dishes. They also tend to desire less rich and heavy dishes and instead go for food that's salty, refreshing, and light. Consider barbecued protein dishes, seafood, and flavourful salads. Lighter beverages also sell better in the summer.

7. Rotate employees
Make sure the same servers aren't always on patio duty. Working in the heat can be tiring. Because restaurants are fast-paced, rotating your servers will ensure upbeat, energetic patio service and keep employees from feeling worn down by the outdoor elements. Diners also may linger on patios than when eating inside. Less table turnover means fewer tips, so your servers may appreciate working an indoor rotation.

8. Prepare for weather
Rain or shine, guests should feel comfortable sitting on your patio. Consider setting up canopies, tents, awnings, shade sails, retractable covers, or umbrellas to offer shade to help patrons beat the heat and cover in case it rains.

9. Warm up the space
During the summer, it can get cool in the evenings. Make sure guests feel comfortable by setting up heat lamps, heaters, or fire pits to warm the space. Fire can keep diners toasty and add to the ambiance of your patio. Check with your municipality to see if you can include fire pits in your design. If you decide to add them, be sure to follow best practice for safe commercial fire pit design.
If your permit allows fall or winter patio dining, some customers may want to eat outdoors even as the seasons change and the weather gets chillier. In December 2020, 70% of consumers said they'd go to a restaurant and sit outside in an enclosed and temperature-controlled ventilated tent (PDF).

10. Offer live music or host events to draw more guests
Want to boost sales and foot traffic on slower nights? Give people a reason to visit your patio! Whether you host a musician, band, speed dating event, trivia night, open mic night, or tastings, customers will come — and order drinks, meals, and appetizers while they enjoy the event.
Conclusion
Patio season is a reason for both restaurant owners and customers to celebrate. Prepare your restaurant's patio by getting a permit, creating a warm and welcoming space, and providing contactless options for menu browsing and payment. By taking these steps, you'll lay the foundation for a successful patio season and provide an outdoor dining experience that customers will want to return to again and again.
Sources