Managing Your Account
Keep card readers and point-of-sale equipment clean and disinfected.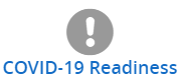 Make sure to disconnect and turn off equipment first.
Do not use solvents, detergents, or abrasive cleaners.
Using a lightly damp microfiber cloth (recommended), wipe down equipment.
After cleaning, the equipment may be disinfected using a suitable alcohol-based wipe or disinfectant applied to a microfiber cloth. A soft cloth dampened with rubbing alcohol (70 percent isopropyl alcohol or disinfectant wipes are recommended), making sure not to drip liquid into any openings.
Never spray your equipment directly.
Avoid paper fiber materials like a tissue or a paper towel, as they're more abrasive and can leave scratches.
Let them dry completely before use.
For more information on preparing your business for COVID-19 visit https://pages.paymentsolutions.chase.com/contingency-plan.html
New to Merchant Services
Chargebacks
Establishing & Managing Accounts

Statements & Fees